An Interview With Oklahoma Singer and Songwriter Jeremy Castle (J.G. Castle)
An interview with Blanchard, Oklahoma's own country music singer and songwriter, college football player, and firefighter...
by Randal Crabtree
March 2006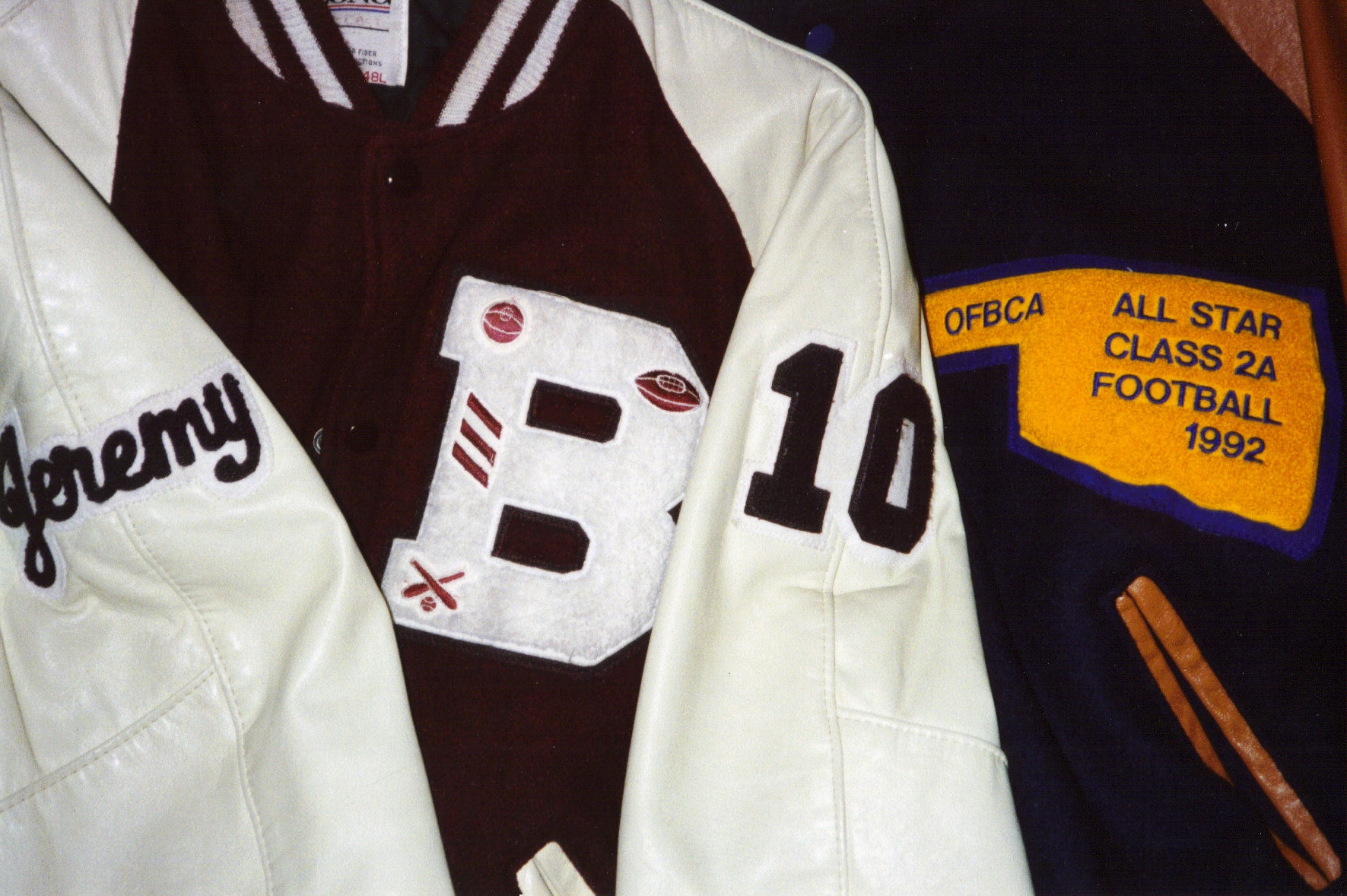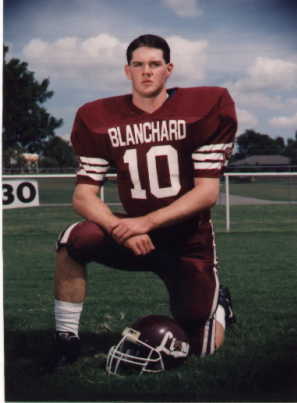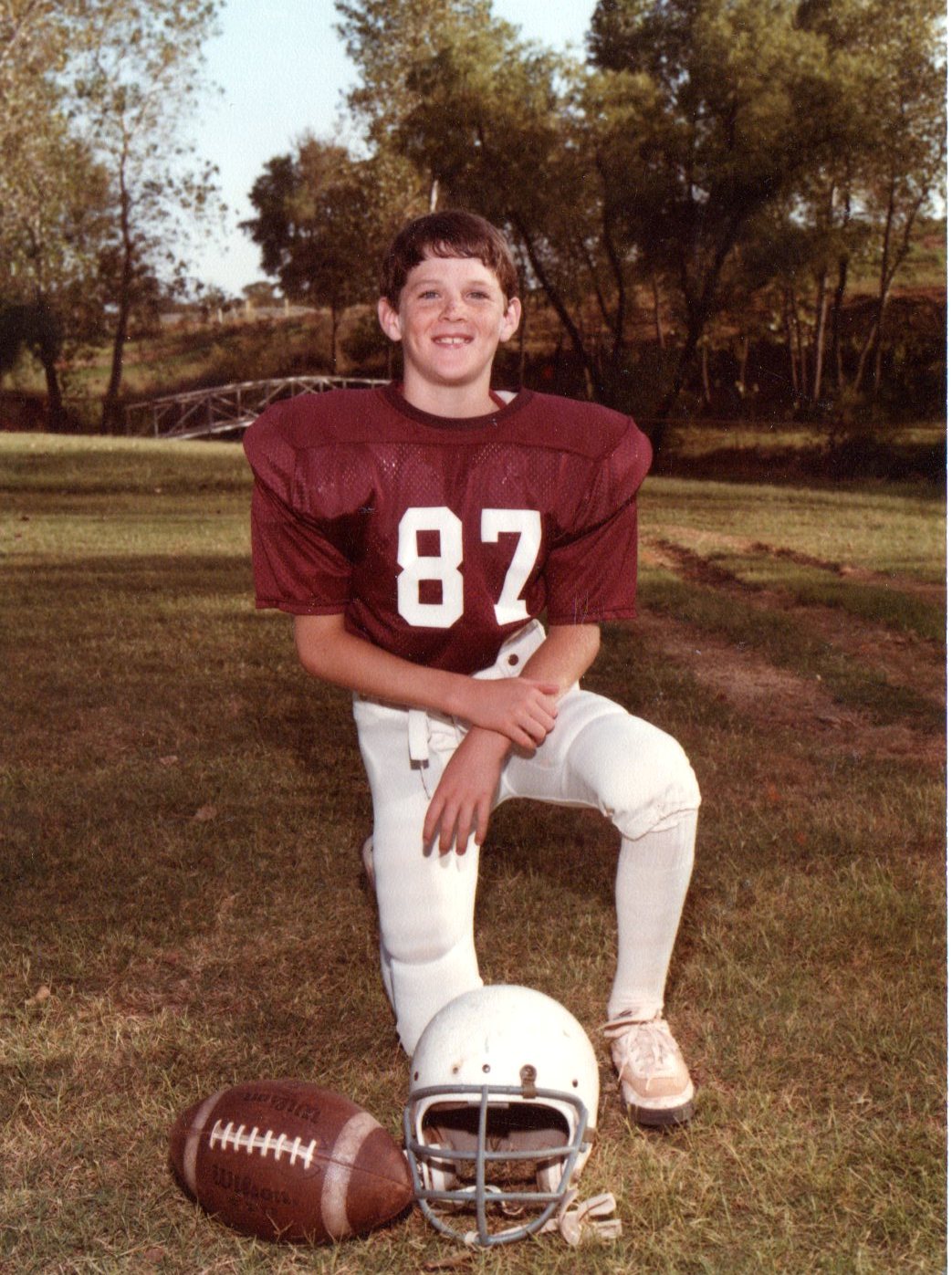 Though I must admit I am much more of a Newcastle Racer fan than that of a Tuttle Tiger or Blanchard Lion fan, I lived in the tri-city area for quite sometime and had the opportunity to watch Jeremy Castle compete as a varsity athlete at Blanchard. I've seen him hit several homeruns in baseball and average 15 points and 7 rebounds a game in basketball. I've seen him hit several homeruns over the fence including ones in regional tournament and state tournament games as well as a game-winning three run homer as a sophomore in the final inning against Duncan in the Moore Invitational Tournament. I've also watched him hit an in the park homerun down the rightfield line against the Newcastle Racers. In football, I remember him as a leader in sacks while playing at Blanchard. Jeremy Castle is a tall guy with great speed. He was the fastest kid I have seen from Blanchard. He's six three and ran a 4.43 second forty-yard dash. As a senior, he was a 2A All-State defensive end and a Daily Oklahoman Blue Chip.
During Jeremy Castle's senior year, the railing of the bleachers in Blanchard's old gym collapsed at a pep assembly and Castle got a rusty nail stuck in his knee. It was the day of the second round game of the football playoffs against Wynnewood. He got the tiny tip of the nail, which broke off inside the knee, removed. He played the whole entire game and gets stitches that night when he gets back. He went on to play college football on a scholarship at SWOSU (Southwestern Oklahoma State University) as a defensive end. He later transfered to East Central University in Ada as a walk-on for the ECU Tigers baseball team for two semesters.
Jeremy's older brother, Eric, played NCAA baseball at the University Central Oklahoma. I have seen Eric hit his share of homeruns as well. I had the opportunity to see Eric hit two homeruns in the same game, one lefthanded and the other righthanded. Both Eric and Jeremy came by their athletic ability honestly. Their father, Glen, was three sports All-State in football, basketball, and baseball his senior year at Southeast High School in Oklahoma City. He was drafted by the Detroit Tigers out of high school, but opted on a full ride to the University of Oklahoma as head coach Enos Semore's first recruit signee. He received honors as an All-American his final year with the Sooners as a first team All-Big 8 shortstop at OU in 1971.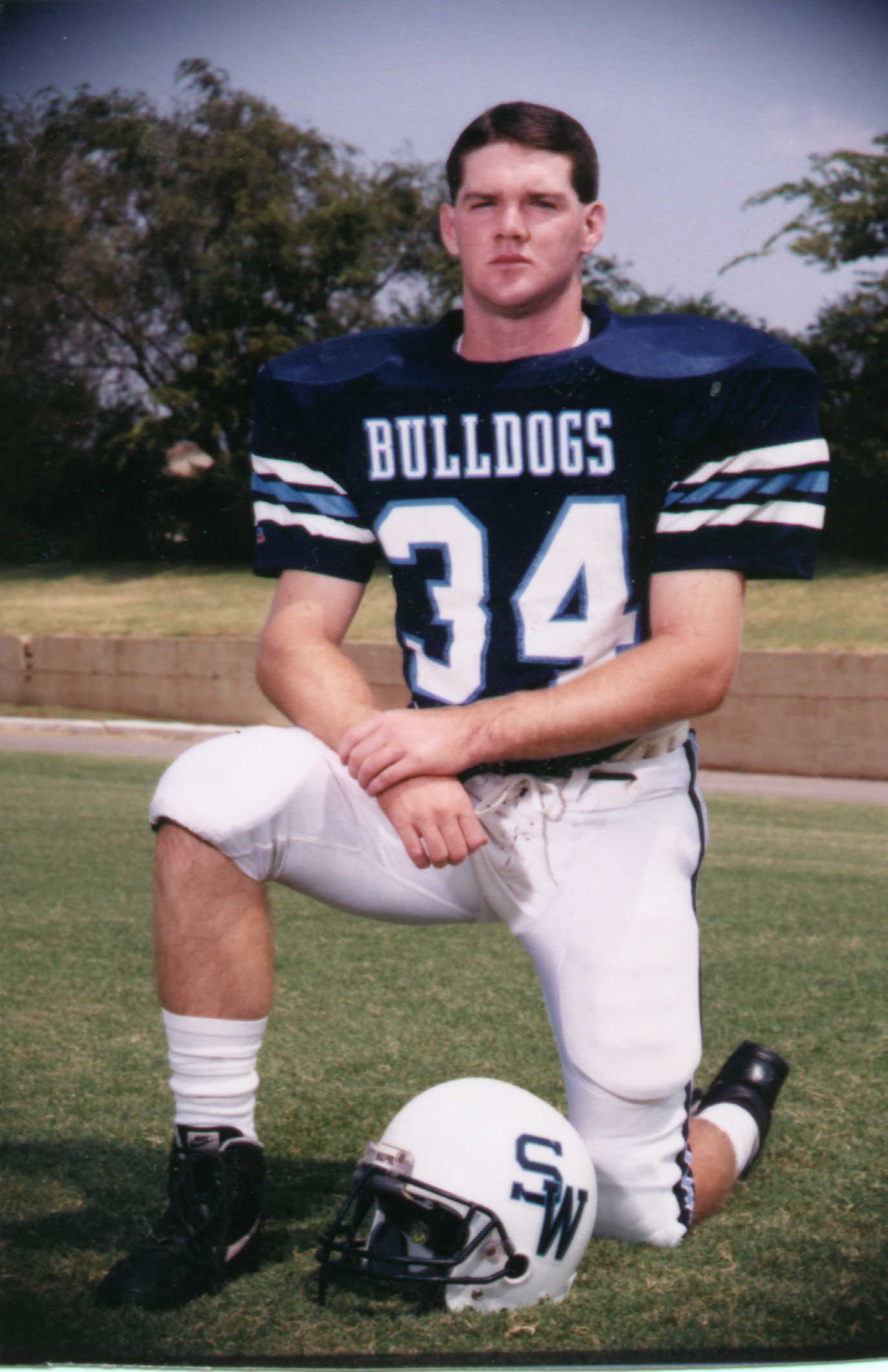 My point is that Jeremy Castle was a talented athlete growing up. As I said, I had the opportunity to see him play athletics first hand. Since then, I have heard some of his music as a country artist. He writes and signs all of his own material. So, exactly how did he become such a great country music songwriter? I arranged a meeting myself to visit with Castle in March of 2006. He now works as an Oklahoma City firefighter. He is now married with a 2 year-old daughter and a baby son. After visiting with the hard-working and somewhat quiet musician, I am a bigger fan than ever of this country artist. He has written several great country songs on his album entitled "For A While", some of which include "Zero", "You Ain't Met My Girl", and "Anyway". He also played some of his new material that will be featured on his next album. It was indeed also very good and I look forward to that CD as well.
Jeremy, I have always tried to write songs. How do you write such good songs?
I enjoy writing songs. It's fun. That's how it should be. Enjoyable. It isn't a chore. I mow the grass and shave my face, but I don't necessarily do those things as a hobby. I don't mind doing these things because they need to be done. I play the guitar, however, for the same reason I might go fishing or golfing. It is relaxing. I feel sorry for the guy in some office in Nashville trying to write a good song to meet a deadline for his boss. That may even explain some of the music on the radio these days. You don't need a record producer from some big label in order to write a song any more than you might need one to go fishing or golfing. You can do it all by yourself. What I mean is that I believe that songwriting is something you do for fun. I think you need to do music as a form of recreation in order to do it well.
How did you get started as a country music singer? What made your music career happen?
After I learned to play guitar, I learned to write songs. Then I began to sing them. One thing just lead to another, not just in my music career, but in life. I guess everyone's life if just a string of events. If I had not had the opportunity to play college football, I may not have gone to college at all. If I had not transferred to East Central University to play baseball, I would not have met all of my friends who taught me to play guitar. If I had not learned to play guitar, I would not have been able to write my own songs. If I didn't have my own songs to sing, I would have never sung. If I had not become a firefighter, I probably would have not had the time to be able to record and perform and still spend as much time with my wife and kids. These are all things I enjoy doing. Things have just worked out for me in a fashion that has aloud me to write and sing songs. God has really provided a way for my music to happen.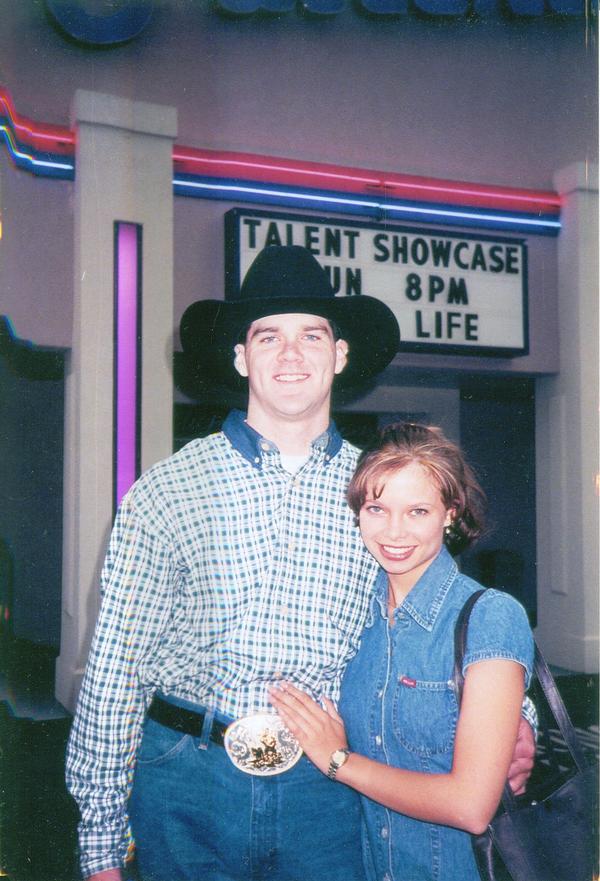 Name some of the local talent that the music scene in Oklahoma City and surrounding area has to offer.
In the Oklahoma City and Norman area, there are several good performers that play locally. Some of of these include Travis Linville, Camille Harp, Greg Reichel, Derek Brown and band Crocodile, and Mike Hosty. These are only a few. All of these are great singers, musicians, songwriters, and performers. They can do it all. Cross Canadian Ragweed is a group that has finally received some recognition. All of these that I mentioned are very talented.
Do you feel that there is a lot of music that goes unrecognized?
Yes. It is difficult for independent artists to get exposure. It is difficult, if not impossible to get airplay if you are not with a major record label. Unfortunately, a lot of really good artists go unheard. That is one of the reasons we will never get to hear some of the really good music that is out there.
What are some other reasons that you feel cause us to miss out on good music?
I believe there is a lot of music that goes unwritten. I bet there have been songs and lyrics that were stuffed in drawers years ago that never saw the light of day. No one ever sang them to anyone else or recorded them. Maybe they didn't have the means to or even the interest in doing so. Maybe they just didn't take the time to write even them down.
I woke up in the middle of the night once with a song idea. I was too lazy to get up and write it down. When I woke up, I never could remember what it was. About week later, I woke up with another idea for a lyric. Although I was very tired, I got up at 3:00 a.m. and made sure this time to write my idea down. I had learned my lesson. If you don't write your song idea down immediately, you are very likely to forget what it even was. I also have songs that I came up with that I can't remember the melody to. You have to either record that or put that down on paper as well.
Who are some of your more popular influences as a musician?
I like classic rock from the 60's and 70's. I also like 90's music as well. I, of course, love country. I like the old stuff. I remember my parents having a Willie Nelson 8-track when I was in Kindergarten. I remember listening to it when we were all riding in my dad's pick-up truck. In junior high, I would listen to my dad's Ernest Tubbs cassettes. I have always really enjoyed traditional country music. I had some Merle Haggard and Johnny Paycheck music in high school. Gene Watson and Charlie Pride are two of my all-time favorites. I also like acoustic albums a lot.
What country music artists did you see in concert growing up?
Back before Oklahoma City had the Ford Center, the main venue for larger concerts was the Myriad. In the '90's, I saw George Strait sing there about five different times. He used to always play there at or around Halloween time. My junior year in of high school, I went with a bunch of friends there on a Thursday night. That was a Halloween also. I remember that we had a football game the next night at Tuttle.
I saw George Jones twice at the Lloyd Noble in Norman, which is where OU's basketball games are at. I've seen Randy Travis and Sammy Kershaw at the Lloyd Noble, too. I've also seen Merle Haggard once there. I've also seen Merle Haggard at the Brady Theater in Tulsa and a bar called Legend's, which was in Ada. Legends has since burned down. I saw Willie Nelson one time at a bar in Oklahoma City called InCahoots. It is now called Club Rodeo. I also saw Willie Nelson another time at the Zoo Amphitheater. I also remember going with some of my friends to the Zoo to see Dwight Yochum. I saw Billy Ray Cyrus once at 89'r Stadium. That used to be the Ranger's minor league baseball stadium at the Oklahoma State Fairgrounds. They tore it down after the 89r's became the Redhawks.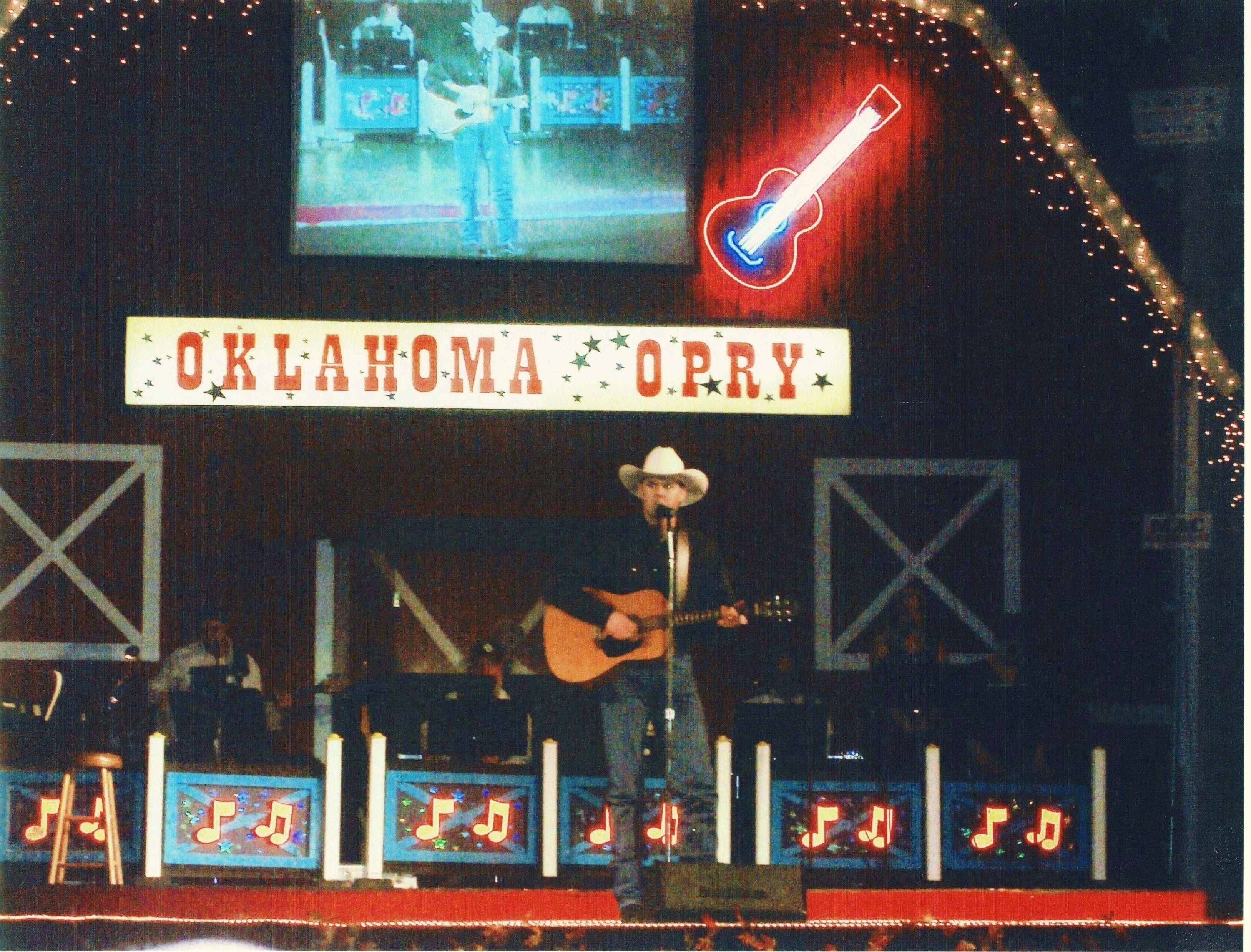 Can you remember the very first live music you have heard?
Before we moved to Blanchard, we lived in Oklahoma City off of S.W. 77th and Blackwelder. This was back in the late 70's. I was about three or four years old. My dad was the head baseball coach and assistant football coach at U.S. Grant High School. My parents used to take my brother and I to eat pizza at a place in a shopping center at Pennsylvania and S.W. 74th Street called Crystal's Pizza. There used to be a TG&Y there. It is now a Burlington Coat Factory, PetSmart, and a Mazzio's. Anyhow, they used to always have someone sitting and playing live music there inside in a little Gazebo. That is probably the first place I can remember seeing someone play a guitar and sing live music at. They also had a movie theater inside this restaurant. My brother and I used to drink strawberry pop and watch The Three Stooges and cartoons on the big movie screen there.
What places, besides Blanchard, did you live growing up? I went to preschool in Oklahoma City. I went to kindergarten in Commerce, Texas. I went to first grade in Tishomingo, Oklahoma. We moved to Blanchard when I was a second grader.
What is you favorite genre?
Country is my favorite genre. I don't, however, like most of the stuff on the radio. I love classic country. I usually just listen to cd's of old stuff that most people don't probably even listen to anymore.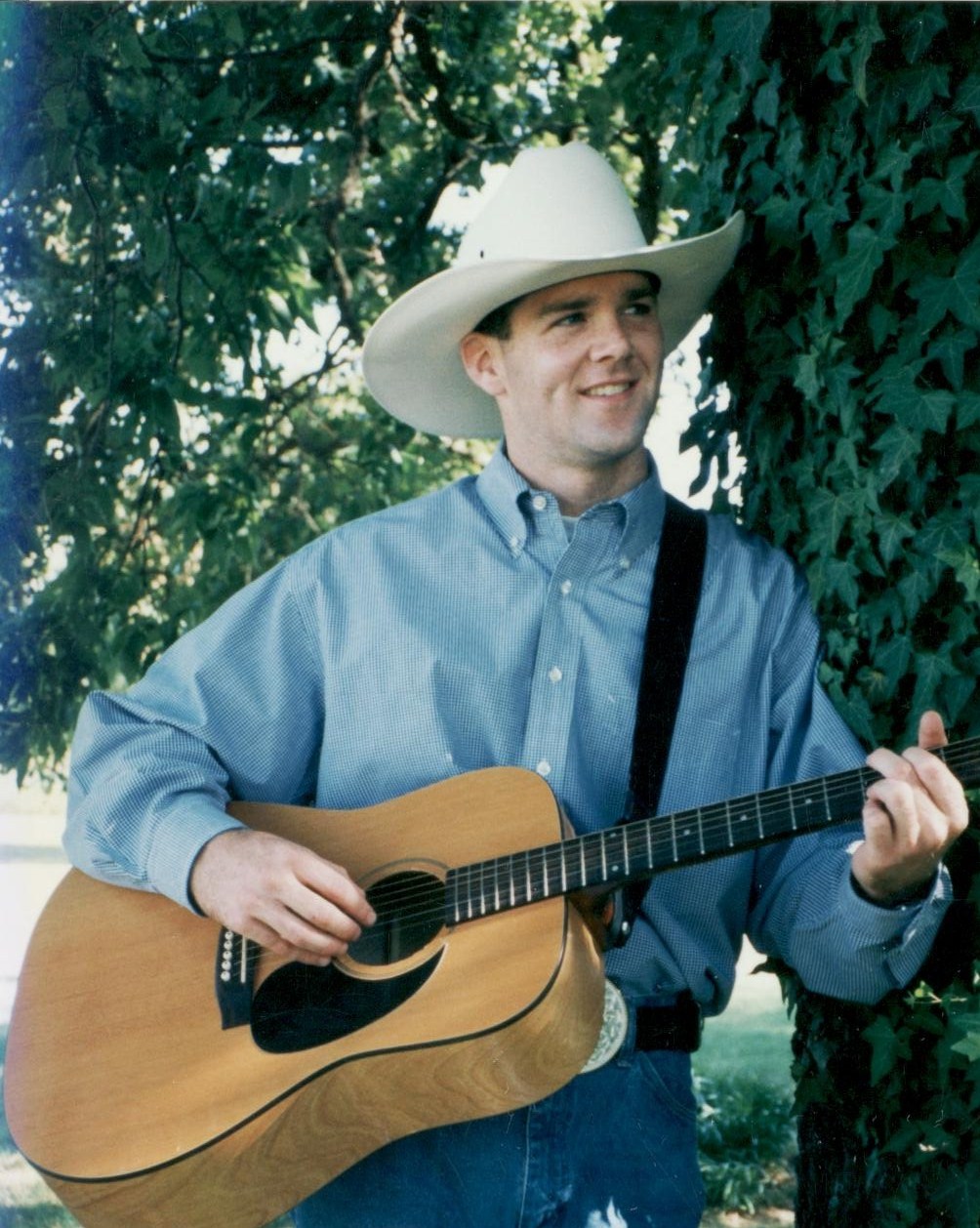 Do you think some of the music on radio is good music?
Yes. I think some of the stuff that is on the radio is very good, but just because something plays on the radio doesn't necessarily mean it is a good song. In turn, just because a song is not on the radio doesn't mean it's not a good song. There are lots of factors that weigh into airplay, but that's a whole different story of its own.
Earlier, you mentioned some lessor known Oklahoma musicians that are good. Can you name some other fellow contemporary country artists from Oklahoma who are more well-known that you might would consider to be good musicians?
There are so many. I can name several artists from Oklahoma that are indeed very talented. Garth Brooks, Vince Gill, Toby Keith, Reba McEntire, Carrie Underwood, and Blake Shelton are all great musicians. Joe Diffie, Wade Hayes, Bryan White, Kellie Coffey, and Jeff Carson are some others who I consider very good as well. All of these that I have mentioned are really talented. This is not to exclude any others. These are only a few. There are many others.
What are the musical similarities and differences in this group of Oklahomans and the local Oklahoma musicians you mentioned earlier?
The similarities of the two groups would be that they both consist of very talented artists. The main difference is that the latter group consists of artists that are well-known. They are all with record labels and are promoted on a larger scale, which is great for record sales and I believe they all deserve the great success that they have had. The former group is just not as well-known because their music hasn't been heard by as many people on a larger scale. In turn, there is nothing wrong with this either. It is, however, unfortunate that more people have not yet had the opportunity to hear the music of these musicians. Hopefully, they will be able to get that opportunity in the future.
What are some of you memories of listening to country music growing up?
I grew up in the country on five acres east of Blanchard. I used to do tractor work for our neighbor. When I was in high school, I would go there straight after baseball practice and mow. I did that in the spring and summer for about four years. I would listen to my headset while I mowed on the tractor. It seems so unsafe looking back on it. My favorite tapes to listen to were George Strait's "If You Ain't Lovin'…You Ain't Livin'" and "Beyond That Blue Neon". I used to practice lay-ups on the basketball goal in our driveway to "Am I Blue". It's just a great up-tempo western swing tune.
While growing up, did you ever have aspirations to sing country music?
No. Not at all. I was interested primarily in athletics. I listened to music, but I was not an aspiring musician growing up by any means. I never sang in church nor was I ever involved in any type of choir. I never did anything like that. I was in band in both the 5th and 6th grades. During those to grade levels, everyone had to choose between vocal music or band. I played the saxophone for two years. In the 7th grade, I had to choose between electives. The choices were athletics and band. I preferred the former. This was the first year we were able to play actual basketball games. I was never in the band again. I don't remember very much about how to play the sax anymore. Two years is not enough time to learn an instrument really well. I can only remember how to play a few of the notes. Some of the fingering of the saxophone, however, is similar to that of a guitar.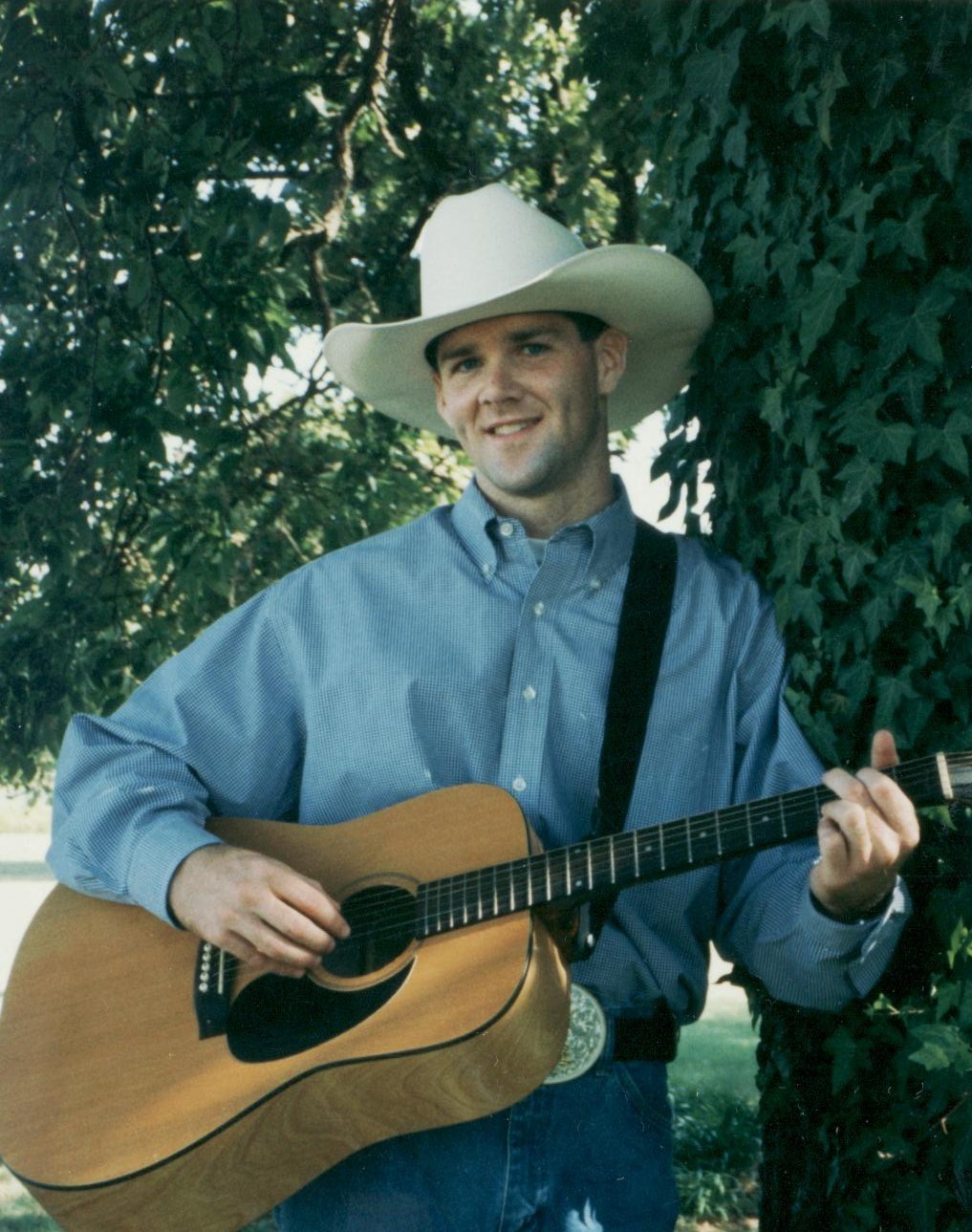 Explain, if you can, the events that lead to you becoming a country music singer and songwriter.
I have always enjoyed country music, but I never anticipated becoming a singer and songwriter. It just kind of happened on it's own I guess. It's hard to explain, but I will try.
Growing up, I loved listening to Merle Haggard, Charlie Pride, and George Jones music. Their style and sound are so authentic, unlike so much of the other stuff you would hear. I loved singing along to it. I think this is probably how and when my singing voice actually developed. I listened to and sang along with the Bellamy Brothers Greatest Hits Volume One on my way to football practice everyday of my senior year. I just got to where I knew the songs by heart.
When did you first learn to play guitar?
We had an old guitar lying around the house for years. It was a classical guitar with nylon strings. I never could play it, but I wished that I knew how. At the end of my senior year of high school, I took a couple months of guitar lessons from Charlie Rayl, who was out of Norman. Basically, he just showed me a bunch of chords and I began to work at it on and off for about a year.
Tell more about your experiences of learning to play the guitar.
I graduated from Blanchard High School in 1993 and went to Southwestern Oklahoma State University in Weatherford on a football scholarship to play defensive end. In my spare time, I would play around with those chords that Rayl showed me. I learned the fingering of the chords correctly. I didn't even know bar chords existed. Learning chords took a long time for me. I just remember the frustration of trying to make my fingers do what I wanted them to do. I would set the guitar down and pick it up again later, continuing to learn the chord patterns. Later, I also took about a semester's worth of guitar lessons from Larry Hammett, who was guitar instructor at the University of Oklahoma. I learned to fingerpick very well from this instruction.
I was attending East Central University in Ada in the Spring of 1995. I lived in the on campus at dorm named Pesagi Hall and worked as an resident assistant. It seemed like everyone had a guitar and everyone had a hunting bow. For my birthday, I went in on halves with my parents and bought a Canadian-made acoustic guitar by Simon and Patrick Gunther. I learned so much from friends who also lived in the dorms. Some were just beginning to play, much like myself. Others already knew how. It didn't matter. Everyone just liked to play music. That is what it is all about. I really believe that.
In 1995, I wrote my first song. Around this time, tablature was huge. Almost any song you wanted to know the chords to was available on the internet, which was also beginning to become very popular. I had three huge binders containing pages and pages of chords and tab from Classic Rock, alternative 90's rocks, and classic country songs. I would sit down for hours learning to play songs on my guitar.
By 1996, I had begun to develop an ear for music. I could listen to and figure out the key of a song that was on the radio. Soon, I was putting the songs into a key that better fit my voice. I have a low baritone voice, so the songs on the radio were often too high for my vocal range. I just put them in a lower key. I experimented with different keys until I found one I liked best.
From 1996 until 1997, I wrote only three songs while living in the dorm as an R.A. at Pesagi Hall. I graduated college at E.C.U. in May of 1997. In 1998, I wrote between forty or fifty songs. I wrote something everyday. It was about like eating or sleeping. It was just something that I did daily. Much like jogging or lifting weights, I was able to get stronger at it just by doing it on a regular basis. I just built the songs around a concept and a good melody.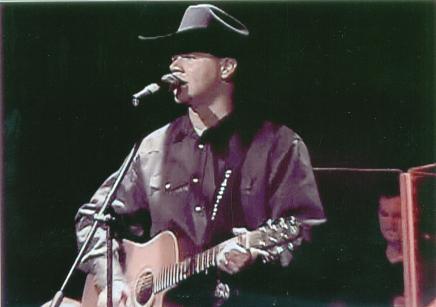 I realize your songwriting and performing began to take off after college. Tell me about how your music career evolved after you graduated from East Central University.
I worked for the hauling department at OU the summer after I graduated college. This is when I met my wife Brandi. I also worked at Chili's restaurant in Norman bussing tables around this time. I taught 4th grade for a year in 1998 at Garden Oaks Elementary in Oklahoma City. I later joined the fire department in March of 1999. I also started taking voice lessons on the weekends from vocal instructor Ray Ballew. I finally had the money it takes to put my music down on tracks. In 1998, I wrote more songs that I have during any other year. I really got into a groove.
I drove back and fourth from Blanchard to Ada so that I could take guitar lessons from Charlie Archer, former lead guitarist for the late Conway Twitty. I also would take voice lessons from J.L. Stillwell at McSwain's Theater in supplement to Ray Ballew's lessons. I would sometimes sing at the McSwain on Saturday nights. I sang a lot of places. I sang anywhere to get experience and exposure. I drove to Branson and Texas to sing all the time.
Charlie Archer introduced me to the talented jazz and western swing guitarist Joe Settlemires, who had just moved to Blanchard around that time. Joe got me in with a band at a bar in Hinton called Rodeo Joe's. I recorded some of my tunes with Joe at his studio in Blanchard. I also recorded with Michael McCarty and Earnie Tullis of Corumbo Recording, which no longer exists. Earnie now owns PDM recording. I have recorded with Earnie for several years.
What was one of the roughest places you have played?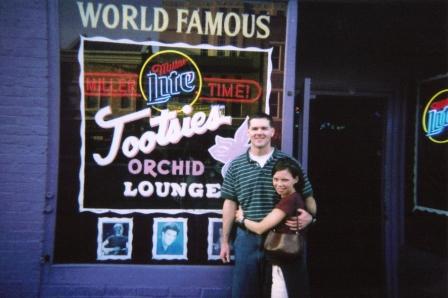 I performed at a bar in Guthrie, Oklahoma. I sang there on a Sunday afternoon with a band that was put together by a fiddle player from that area who had heard me sing and asked me to perform there. We played for several hours. I remember that there were two huge dogs walking around inside the bar the whole time. They were indoors because it was so hot outside that day. The people loved the music, but there was a drunk guy that kept getting up on stage and wanting to sing, too. Brandi and I were dating at the time. She went with me and I remembering telling her I would probably not sing there again, definitely not on a Sunday.
What is one of the rowdiest places you have listened to live music?
We have a good friend who used to play lead guitar for a rock band. We watched them perform one night in 2001 at a country bar in Choctaw. The crowd really loved the music. They started the gig around 10 o'clock in the evening. I remember that when I left around midnight, the place was pretty rowdy.
What word would you use to describe good music?
"Timeless". Good music is as good now as it was forty years ago. Some of today's music is timeless. A lot of it isn't.
How do you know when music might be considered bad music?
It just comes down to a matter of one's personal preferences and I think that everyone's opinion is probably quite different based on one's individual taste. I would have to say that would possibly be anytime you are in the car and the amount of time you spend flipping around from one radio station to another in an attempt to find a song you want to listen to is longer than the amount of time you actually spend listening to the music. In my opinion, that is a pretty good indicator of bad music.
In your opinion, what is wrong with today's country music?
I think there are a lot of good artists, but I think the problem lies within the industry itself. They know sex sells. Today's music is no different than movies or television. They just can't seem to get away from the mainstream.
Once a young singer is old, they are really pretty much deemed useless. They just find another young replacement. The focus is on the image of the singer, not on the music or even the creativity of the artist. They want the singer to be a big star. The industry has lost touch with what the music is about.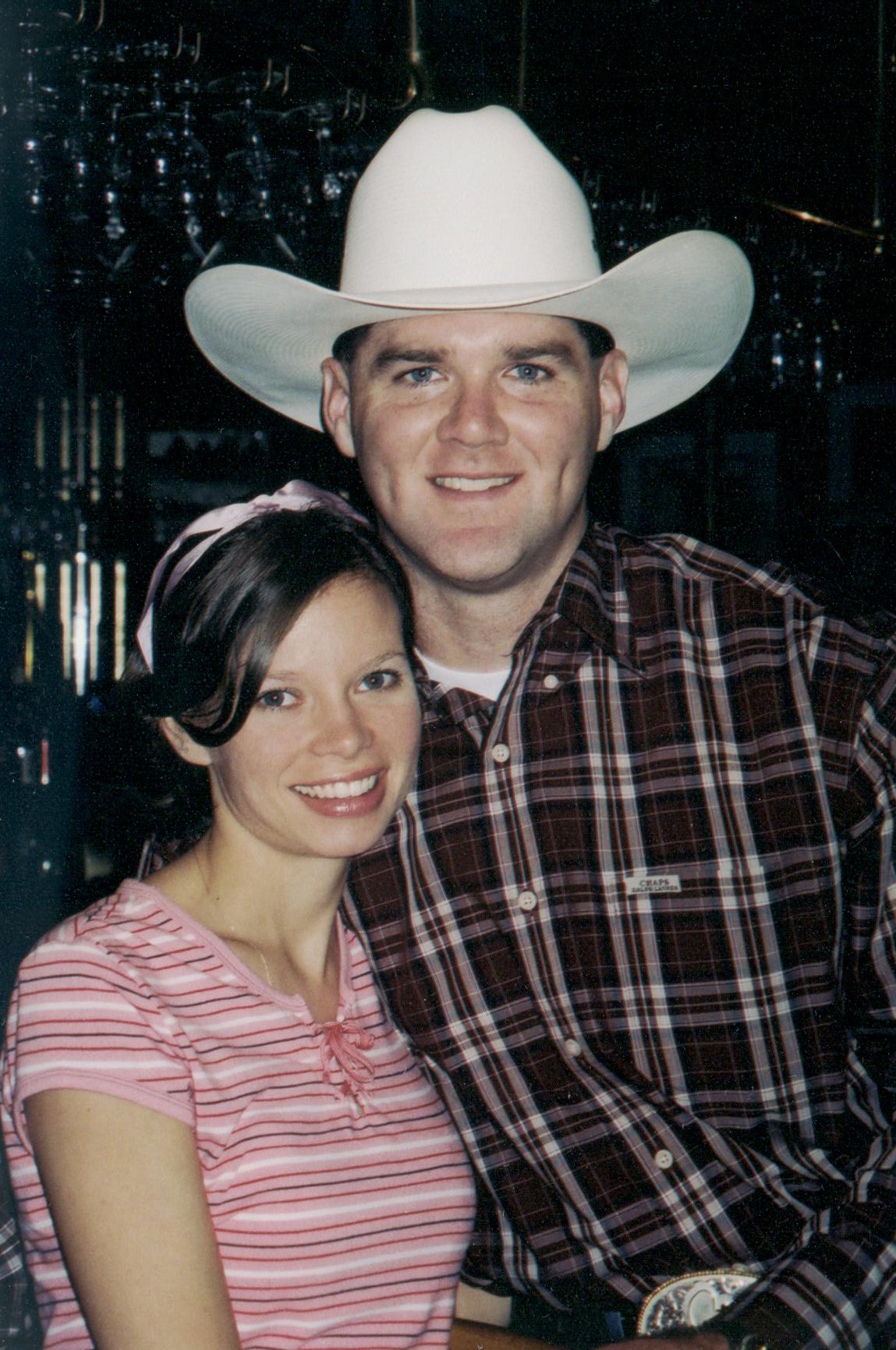 How is today's music industry different from the music industry of the past?
You can't go to Nashville and play your music to them in hopes of getting a record contract. You have to live there for years and even then you may not even get your foot in the door. Anything you submit is considered " unsolicited material", which is a term the music industry uses to keep out musicians with good original material. It is unfortunate. They usually won't even give it a listen.
There are a lot of starving artists in Nashville. There used to be a time when an individual was able to go to Nashville with a bunch of songs they had written and get a contract by just "singing their stuff" to the label executives. Those days are long gone. The labels hire staff writers to write the songs for the artist. They, however, will steal your ideas from you, so you have to be really careful. They will write songs with titles identical to ones written by "independent artists". They will also use an unsigned artist's concepts and catch phrases as well. It's not really fair, but really is a dog-eat-dog world. It's really a lot about who you know much of the time. It's whether or not you have the "right connections". The labels only care about making a dollar. It sounds negative, but it is true. That's just how it is. The music of today just doesn't seem real to me.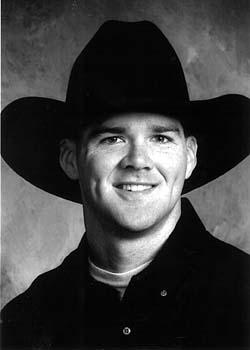 What is it that makes music "real"?
It just has to be from the heart. It can even be simple, but it has to be genuine.
Can you give an example of this type of music?
When Brandi and I were still dating, I took a couple shifts off from work and we went to Memphis. This was in March of 2003. We went into B.B. King's to eat Bar-B-Q and listen to some blues. It was good, but afterward we walked down Bealle Streat. There was an old empty building with a couple of bands singing blues and playing their guitars. They were playing for tips and you could tell that the music was truly heartfelt. They weren't well-known and their music was no huge production. It, however, actually sounded as good, maybe even better, than the first music that we had heard and it cost a lot less to listen to. Music needs to be real and from the heart. You have to mean it.
You have written some really good music yourself. How do you write a good song?
I think you just have to have just the right idea at just the right moment. You have to recognize your own good idea when you come up with one. Then, you have to capture it and hope you don't forget it. I never have forced my songwriting. It is off the wall and out of nowhere much of the time. I have found from experience, however, that you really have to be in the right mindset to write a song. I always write my songs when no one else is around. I can think better and my thoughts seem to flow more smoothly. This is just what works for me. I don't know about anyone else. I am sure that the whole songwriting approach itself, in general, probably varies somewhat from one songwriter to the next.
Is there a particular location you like to be when writing a song?
I almost always write my songs while I am at home. I usually just make them up while walking around inside the house or in the back yard. I have a difficult time for the most part sitting down anyway. I just like to be moving around for some reason. We, however, do have a wooden porch swing on our back porch where I like to sit sometimes when I am working on a song. Most of the time when I am actually writing down lyrics to something I have come up with, I will sit down at the kitchen table.
Do you have any other tips for others wanting to become better songwriters?
Another good method of songwriting is to just sit down, start strumming some chords, and sing into a recorder. Just make something up as you go. It is surprising some of the quality stuff you can come up with this way.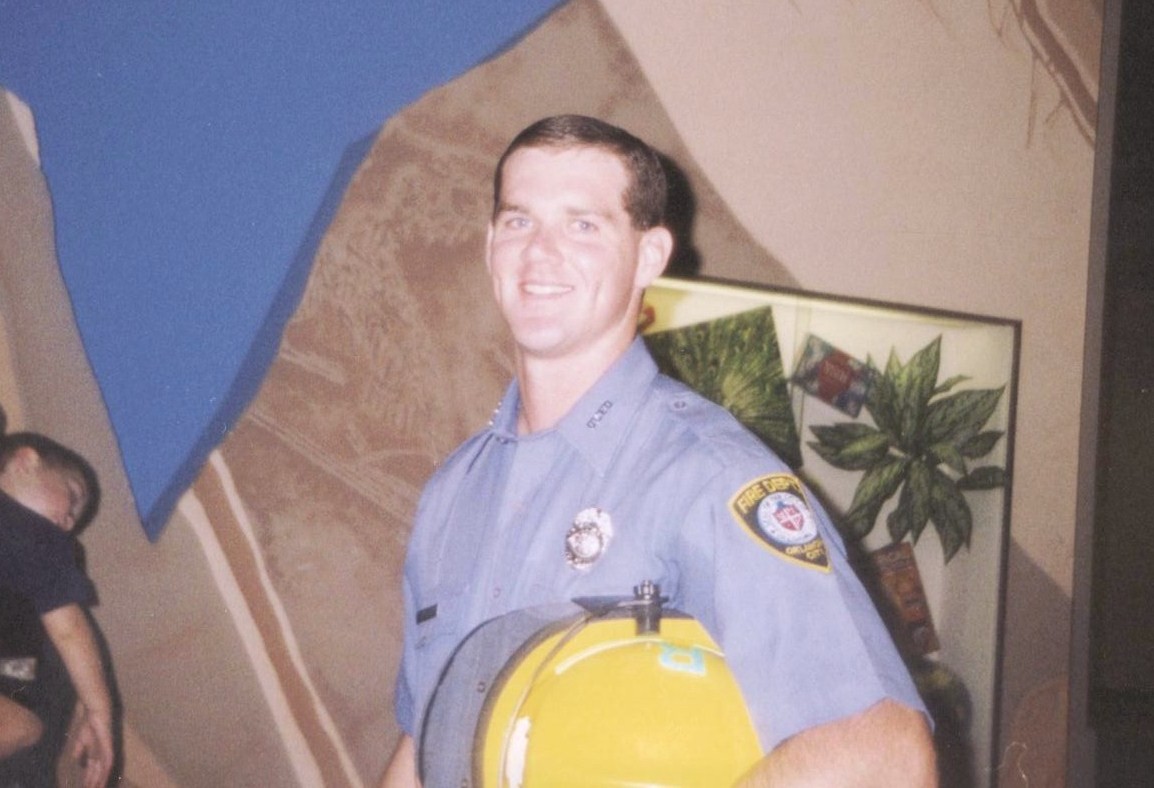 Before Brandi and I got married, I lived in a one room studio apartment in Oklahoma City. This was after I had just got hired onto the fire department. I didn't have a t.v. I just pretty much had a bed and a couch. I didn't even have a table. I wrote a lot of songs in my spare time simply because playing my guitar was my primary recreational activity. I wasn't wasting a bunch of time sitting in front of a television set, so I was able to be more creative with my music. I was also taking guitar lessons once a week at Rose State College, so I had plenty of material to work on. I worked a lot on my singing and just playing the songs I had already written as well. I believe you just have to make time for whatever it is that you really enjoy.
Do you recommend books that help songwriters to improve the songwriting skills?
Yes. There are several resources out there to help individuals with their songwriting abilities. These range from books to websites. They have a lot of useful advice for songwriters who are interested in improving their skills. It is always a good idea to seek advice on how others write songs. My only suggestion is to try not to follow them completely. I believe that one should use them as guidelines only. They are often written from the viewpoint of a one individual. My advice would be to be as flexible with your songwriting as is possible. Don't be afraid to go outside the norm. People will call you an idiot for saying to "think outside the box". I beg to differ. Some of the advice given in these books will try to tell you exactly how to write a song. Songwriters will tell you there are certain patterns and a particular order in which the chorus or verses should be arranged withing your song. While this may be true, you can actually put a verse or chorus wherever you want. You can even start the songs with a chorus if you want. For that matter you don't even have to have a chorus. You can just have a song that consists of verses only. It's your song. I think you have to be creative enough to write your song how you want to. You have to experiment with different chords, lyrics, and tempos. The possibilities are indeed endless and a lot of aspects in music are often just relative to your personal perspective. One person may call a verse what another person may consider to be a chorus. Neither is wrong. They are just two ways of looking at the same thing.
Do you recommend co-writing?
Sure. I think that is probably what works best for some people. I am sure everyone is different. I have a couple of friends, myself, who I will always sing my new songs that I have written to. As a songwriter, I think it is good to get advice from others who can offer constructive criticism to you. They may have some good suggestions that you didn't think of that will help to improve your songs.
How often do you write?
It really just depends. It varies. I have written two or three songs in a single a day before. Some days I don't write at all. I sometimes can even go a few weeks without writing one. The important thing for me is to continue writing down thoughts and ideas. I am constantly looking around my environment and listening for new ideas. You never know where an idea for a good song might come from. Sometimes I go back to old lyrics I have created. I always have a tape recorder nearby and often will record melodies or lines that I come up with. I have a ton of cassettes and about three notepads full of songs and song ideas. If I don't do this, I will just forget what I cam up with later. When I complete a song and have it just how I want it, I always type it up and save it to a disk. I also make a good recording of it. I copyright it as well. I usually try to keep my original material as organized as possible. It can sometimes be difficult, however, to be organized when you are constantly writing new stuff.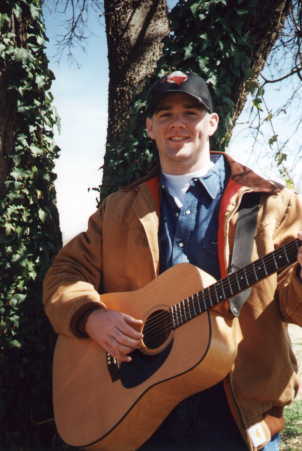 Do you think good songwriting is a trained activity?
I think it is to some extent. The more you think, the more your brain works for you. I went back to school to get my master's degree in 2002. I wrote a ton of songs at a time when I had less time to focus on music. Why? Because my mind was being put to work. I believe it works much like a muscle. You use it or lose it. Athletes are the same way. My dad is a great example. He jogs and works out daily. He lifts weights and hits golfballs all the time. He is in great physical condition and he is a great golfer because he makes a habit of working at it. Songwriting is the same way.
Creative writing, however, has always been relatively easy for me. In school, I always had an easier time with English and language arts than I did in math or science. Everyone varies in that respect, but I do think your songwriting does improve with practice.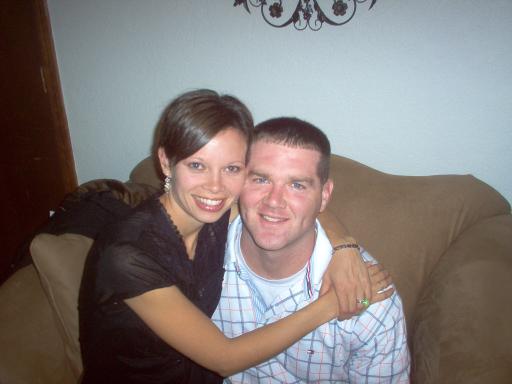 If you will, explain how is it that you have found the time to be able to do all of these things successfully.
I have continued to record, write and perform. I am still a firefighter as well. My schedule works well for my music. I just schedule my music work around my firefighting work schedule. I have always considered my music as much of a hobby as a career. I really enjoy doing it. I believe this is why I have been able to have the success that I have had. I also have a wonderful wife and children who support me. I have two wonderful parents who have always supported me as well. They still do. I am really blessed. Family is what's important in life, not sports and music. Those things aren't important. Family is what matters. I also have lots of friends. Some play and sing, too. Others don't. I just really enjoy singing and writing songs, so I make time to do so.
That concludes my interview. I would like to take a moment to thank Jeremy Castle for taking the time to answer my questions. If any readers have not had the opportunity to hear some of Blanchard, Oklahoma native Jeremy Castle's music, you should give it a listen.
JEREMY CASTLE Links
Song Links
MySpace
YouTube
Web Links
Twitter
Facebook
Official Web Page
Instagram
Pinterest
Music Links